Flippin' Back Pain: Helping People Who Get It Get It
In this webinar, Prof Cormac Ryan will be sharing some of the campaign's key messages with a specific focus on back pain, all backed up with the science behind them and his trademark anecdotes. Attendees will learn that back pain is common and can affect anyone; hurt does not always mean harm; everything matters when it comes to back pain; medicines and surgeries are often not the answerl understanding your pain is key; recovery is possible.
There will then be a live Q&A led by Flippin' Pain team member Felicity Thow where Prof Cormac will be joined by Tina Price, who lives with low back pain, Dr Deepak Ravindran, Pain Consultant and Dr Lizzie Doherr, Pain Psychologist.
Presenter:
Professor Cormac Ryan is Flippin' Pain's resident pain expert. With over 70 journal publications spanning 15 years in the field of chronic pain and pain education, his career as a pain scientist is continually informed by his clinical practice as a physiotherapist and you can currently find him working at Teesside University in the North of England. He combines humour and storytelling to make pain understandable and relevant to the listener.
Panel:
Tina Price is affected by back and neuropathic pain (sciatica), which she has lived with since an injury in 2008.  Recently she started to write, blog and talk about her experiences of living well with pain, directed at both clinicians and patients.  She has been invited to sit on research advisory panels, is a patient representative on the Executive Board of the UK's Physiotherapy Pain Association and is a Principal Investigator for Cause Health.  Tina is involved in the production of learning materials about persistent pain for both patients and clinicians.
Dr Lizzie Doherr is a Clinical Psychologist and the Psychology Lead for an NHS Pain Service in Lincolnshire, UK. Her work in persistent pain now involves a combination of individual pain psychology work with patients, virtual pain management programmes, delivering webinars and supporting the wellbeing of the Pain Team clinicians. She is passionate about supporting people to live a full, valued, meaningful life and in doing this Lizzie draws heavily on the concepts of acceptance and compassion.
Dr Deepak Ravindran is a frontline Pain Physician with over 20 years of experience working in the community Pain service IPASS in Berkshire and also leads the complex pain service at the Royal Berkshire Hospital in Reading, UK. He has added qualifications in MSK and Lifestyle Medicine and is a self-confessed trauma-informed upstreamist. He is a visiting lecturer and researcher at the University of Reading, UK and is the author of the book "The Pain Free Mindset" – a book for patients and healthcare professionals on the latest advances in Pain Medicine.
Moderator:
Felicity Thow is a Physiotherapist with an interest in persistent pain and a Post-graduate Diploma in Pain Management. She lives in Newcastle upon Tyne, UK where she works both in clinic and remotely with people in pain, as well as being part of the Flippin' Pain team. Felicity regularly hosts Flippin' Pain's online events and will be leading and moderating this collaborative webinar alongside IASP.
When: Wednesday 13th May, 1.00-2.30pm GMT
Where: Due to the ongoing pandemic this is a virtual webinar event
Sign up: Book your place here
Download and share our event poster
Find out more about IASP here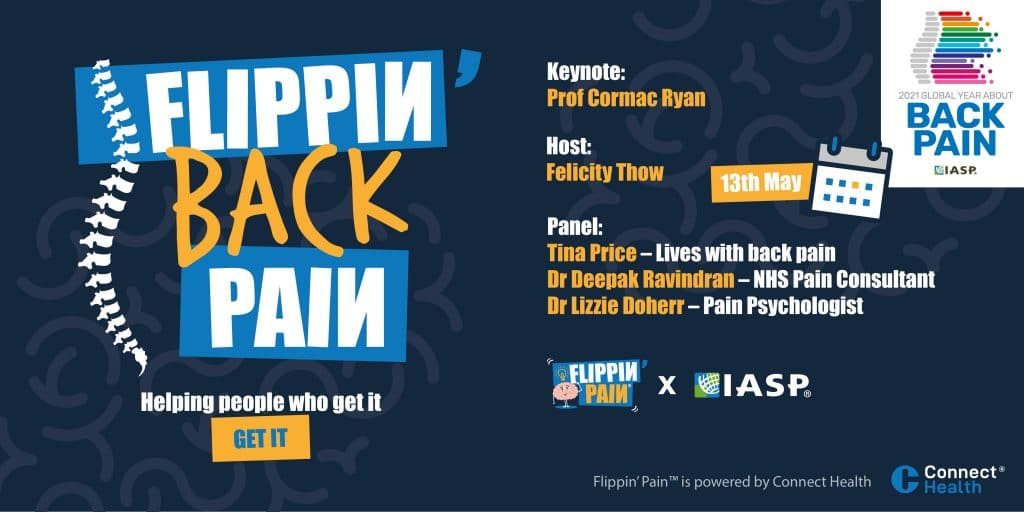 Missed the event? Watch the webinar in full below:
Having issues accessing the video? Click here to watch it on YouTube.