Pain Science for Non-Pain Specialists
Do you treat people in pain?
Do you sometimes feel overwhelmed by the complexities of pain science?
Are you confident that you know enough about pain to do the best for your patients?
Join us for a fun, FREE and informative journey through the complexities of pain science. Our speakers and panel of expert guests will share insights, answer questions & encourage you to consider whether you might need to 'flip' the way you think about, talk about, & treat persistent pain.
Look forward to a presentation by Prof Cormac Ryan and an Expert Panel Q&A discussion involving you, the audience.

– Please note that this event is designed for health professionals –
When: Wednesday 3rd February, 5.00-6.30pm
Where: Due to the ongoing pandemic this is a virtual webinar event
Meet our panel, read our speakers' biographies here
Download and share our event poster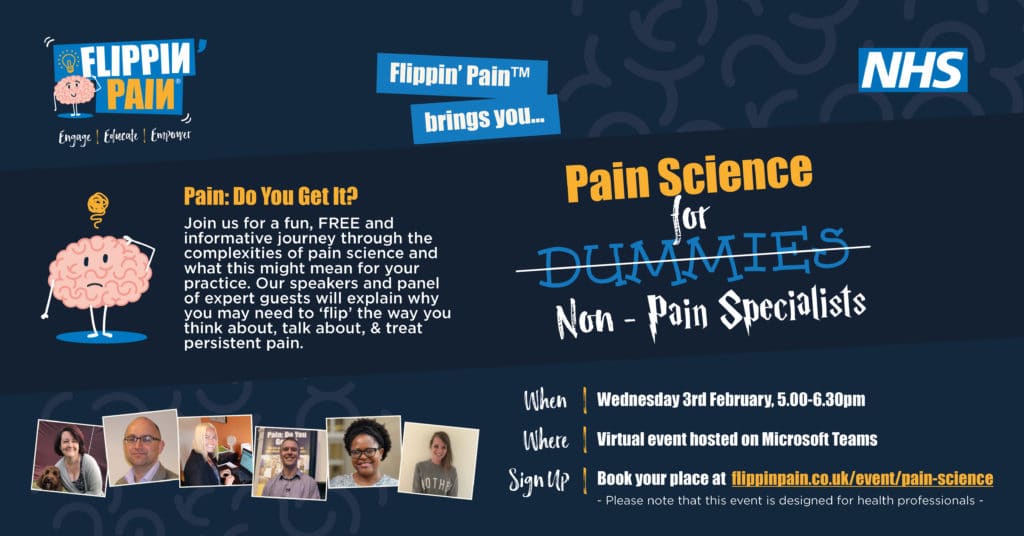 Missed the event? Watch the webinar in full below:
Having issues accessing the video? Click here to watch it on YouTube.
Teesside University Research
Dear delegate, I would like to make you aware of an invitation to participate in some research related to this upcoming lecture which has been approved by an ethics board at Teesside University. The research involves you completing a short survey before the lecture with further details attached to help you decide if you would like to participate.
Link to participate: https://teesside.onlinesurveys.ac.uk/pain-science-for-non-pain-specialists-an-evaluation-pre
Thank you for reading this invitation.
Nick Livadas, PhD Student – Teesside University
Flippin' Pain is indebted to our many kind sponsors, partners, and affiliates. You are AWESOME and we couldn't do this without you!