A workshop for Health Professionals
If you're a healthcare professional, then chances are a lot of your time is spent helping people who are living with long-term pain.
Persistent pain is common and it can be complicated. Applying an understanding of pain to your clinical practice can be challenging.
'So you Understand Pain… What next?' is a series of intimate interactive practical workshops for healthcare professionals, facilitated by experts in the field, that will explore ways to improve your skills and confidence in supporting people living with persistent pain.
When: Sessions everyday from Sunday 12th to Friday 17th September
Where: Various locations across Lincolnshire
Sign up: Booking links & further information can be found below…
Stamford
The event will be held in the Oswald Elliott Hall on the main school site. Access is via the main entrance off St Paul's Street. Our public seminar and Brain Bus Experience are accessible via the same entrance.
Free parking is available in the Brazenose Car Park which is accessed off Brazenose Lane.
Sleaford
The event will be held at The Hub, Navigation Wharf, Carre Street, Sleaford, NG34 7TW. Visit their website for further details. Our public seminar and Brain Bus Experience are all on site.
Parking is in East Gate Car Park (to the rear of The Hub) use postcode NG34 7DW. Charges apply until 6pm, charges are £1.50 for 3hrs. If you are parking here you can enter the venue on foot via Carre Street.
Skegness
The event will be held at Tower Gardens, Pavilion, Skegness, 111 Lumley Road, PE25 3LZ. The Pavilion is within the park grounds which are pedestrianised. Our public seminar and Brain Bus Experience are all on site.
Limited parking available on Rutland Road. Nearest car park is Scarborough Avenue Car Park (54 Scarborough Avenue, Skegness, PE25 2TB).
Market Rasen
The event will be held at Church Hall, Caistor Road, Market Rasen, LN8 3HT. Access via Festival Hall Car Park, pedestrian access also from A631 King Street. The Brain Bus Experience is also on this site.
Church Hall is situated near Festival Hall Car Park (opposite Festival Hall). The car park is managed by West Lindsey District Council. Entrance via B1202.
Lincoln
The event will be held at Isaac Newton Building, University of Lincoln, Brayford Pool Campus.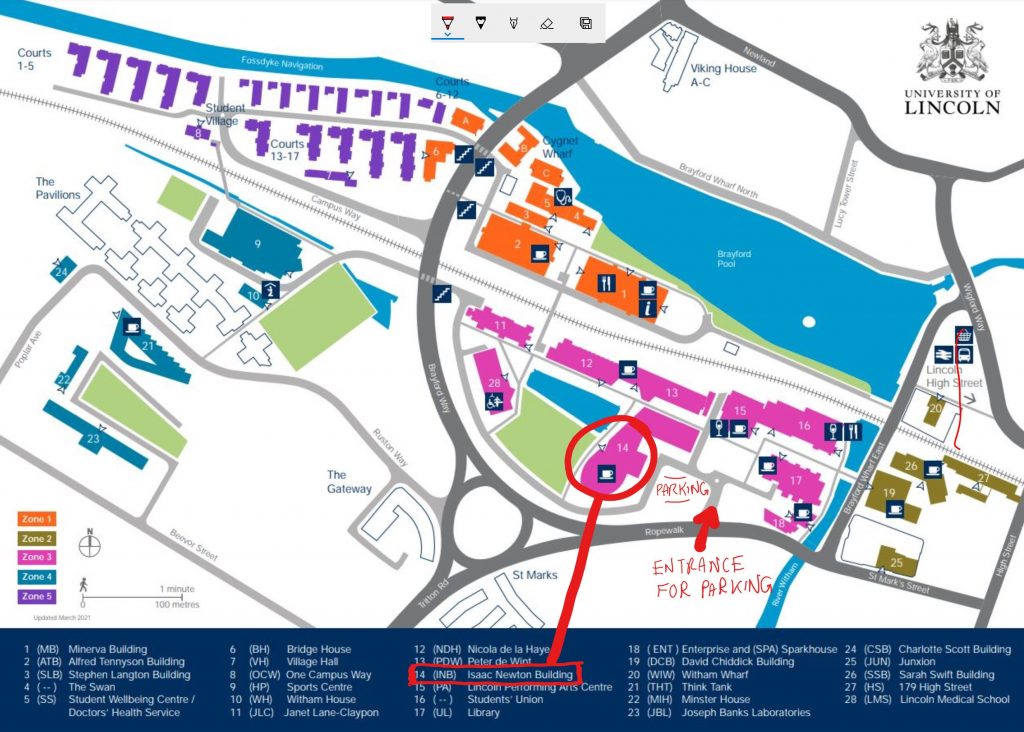 If travelling by car, enter the main university car park via Ropewalk and park towards the left of the car park. The Isaac Newton Building has its rear to the car park, with the main entrance accessible on foot only. Please view the map above where the entrance is denoted with a small white arrow.
On arrival look out for Flippin' Pain team members who will be happy to direct you.
Our public seminar is also at the site.
Parking is at University Boulevard, Ropewalk, Lincoln, LN6 7DQ. It is pay and display, operated by City of Lincoln Council.
Grantham
The event will be held at Eden House Hotel, 130 N Parade, Grantham NG31 8AU. The workshop will take place in the Library.
Parking is available at the hotel via the main entrance.