Making an impact in Lincolnshire
Thanks to support from community healthcare services provider, Connect Health and NHS Lincolnshire Clinical Commissioning Group, we kickstarted our activity in late-2019, with two initial engagement events, swiftly followed by a third in Feb 2020.
These were due to be followed by a Lincolnshire-wide event in the summer of 2020, but COVID inevitably impacted our timings. It meant our tour, the first-of-its-kind in the UK, featuring a pain roadshow and charity cycle ride, took place in September 2021 instead.
Spanning 11 locations over six days and stopping off at a range of venues including schools, marketplaces and medical centres, our ambition was to tackle Lincolnshire's chronic pain problem. To put power back in the hands of those affected – thought to be around two in five local residents.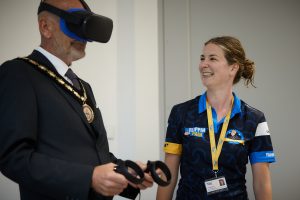 Over 400 people, including those affected by pain and healthcare professionals, joined us on the tour. They came along to our public engagement and educational events, visited our interactive Brain Bus Experience, met experts and shared their individual experiences of living with pain.
The media gave plenty of column inches and airtime to our cause too – profiling the stories of our fantastic ambassadors Niki Jones and Fen Kipley, alerting locals of where we'd be and supporting the fundraising efforts of our 20-strong cycling team, which cycled over 250 miles and raised £5000 for Pain Concern.
On day five of the tour we welcomed an extra special guest in the form of Dominic Hughes, health correspondent from the BBC. Dominic was working on a special report on chronic pain – more on that to follow!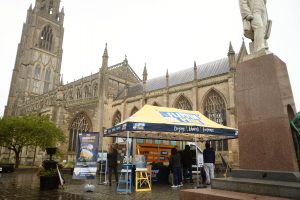 Virtual events give hope in Scotland
The success of our activity in Lincolnshire was instrumental in building the Flippin' Pain brand, allowing us to secure further opportunities to share our campaign messages and help more people.
So much so that in late 2021 we were commissioned to provide three public seminars for people in Scotland affected by chronic pain. The events – funded by the Scottish Government and NHS Scotland – were delivered as a webinar series during February and March 2022 and were attended by over 2,500 people including those affected by the negative impacts of the pandemic on NHS waiting lists and access to services.
The events were extremely powerful, bringing our experts, including Professors Cormac Ryan and Lorimer Moseley AO together with incredible panellists who talked candidly about what it means to have chronic pain.
Jonathan Davies, a Police officer from Aberdeenshire joined our second webinar 'Why EVERYTHING matters when it comes to pain.' His story resonated so much with other Scots that he featured in an exclusive STV interview and within several press titles, talking about how a simple chest infection led to his shock diagnosis of several health problems.
More than 2,500 Scots signed up to view the events (which are still available to watch) with nearly two thirds (59%) of those who completed a feedback survey saying they live with chronic pain. They told us they are now more hopeful for their future following the events (63%) and that they intend to explore ways to increase the amount of physical exercise they do (70%).
Half are less likely to choose a medical procedure or will now question their need for one, such as surgery or injections, and 45% say they are unlikely to take opioid-based medication. These stats alone show how important it is to change the rhetoric on pain management to help people live the lives they deserve. We want to stop people feeling resigned to suffering from an illness they feel powerless to fight.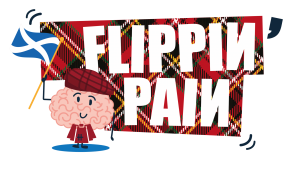 The BBC makes a big bang
One of the most influential factors in Flippin' Pain's history was the BBC's exposure on the UK's chronic pain problem. And we're extremely proud of the part we played in helping to bring that programming to life.
On Wednesday 11 May 2022, the BBC unveiled a piece of research highlighting the plight of sufferers across the nation and released it across its broadcast and digital network. This culminated in a long feature on BBC online, an extended segment on BBC Breakfast, snippets on the daily national news bulletins, a special iPlayer documentary 'A Life of Pain', '5 Minutes On' on BBC Sounds and radio features across local and national stations.
The relevance for Flippin' Pain is that we helped shape some of the study questions. Plus, interviewees across the BBC features included our champions, Niki Jones, Dr Chris Barker and Felicity Thow. And, after Dominic Hughes joined our Lincoln leg of the peloton, our charity riders on their bikes too!
We couldn't be prouder to help bring such a significant study to light, and the feedback from the chronic pain community has been overwhelmingly positive.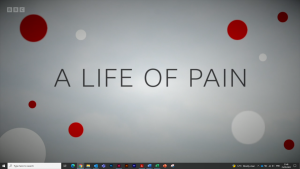 Change is happening
The last two years have been humbling. The people we've met along the way are an inspiration – continually firing up our campaign team to keep pushing on and making further strides to change the outdated narrative on chronic pain.
Flippin' Pain is all about education and empowerment, and whilst we don't have all the answers and we can't make peoples' pain 'just go away', we can continue in our efforts to make a difference on a local level, engaging with one community at a time.
So, what does the future hold for Flippin' Pain? Watch this space and if the last two years are anything to go by, remarkable things are coming…
We're incredibly proud to have worked with and receive support from some fantastic organisations.