Coming this May: Flippin' Pain Community Outreach Tour, Tees Valley
Applications are now closed. Thanks to everyone who has applied!
Once again, the tour will be fronted by a peloton (large bike ride): grabbing attention, raising awareness of the problem of chronic pain, and most importantly empowering whole communities with an improved understanding of pain science and management.
Applications from riders of all levels of fitness and experience will be welcomed.
The Flippin' Pain peloton is not designed for cycling enthusiasts (although seasoned riders are welcome). The challenge of cycling the tour is a metaphor for living with chronic pain:
• some people will find it harder than others
• at times it may be physically and emotionally demanding
• it will require planning, preparation, and determination
• there will be set backs and obstacles to overcome
The only requirement is that you share our passion for improving the lives of people affected by chronic pain.
During our last tour in Lincolnshire (2021), we attracted attention from local and national media, including the BBC! You can watch highlights of the 2021 tour here.
The team of riders who completed the tour included a mix of health professionals, academics, and people with lived experience of chronic pain. This year, we expect to reach more people, making an even bigger difference, and continuing our mission of changing the way people think about, talk about, and treat chronic pain.
We're keen to assemble a diverse team who are fully representative of the wider communities where Flippin' Pain operates. We welcome all expressions of interest, including from people of different backgrounds including minority groups and those with lived experience.

Tour details
We're currently in the thick of tour planning and will have lots more detail to share in the next 1-2 months. In the meantime, here's an indicator of what you can expect:
• The peloton route will focus on Tees Valley but will also take in some of the surrounding areas (e.g. North Yorkshire, County Durham).
• The group is likely to cover approximately 40 miles a day for five days, visiting around 10 different campaign events and activities.
• You can expect to be cycling between 8am to 4pm each day, Monday to Friday (always as a team, at a steady pace, with frequent breaks, guides and support vehicle).
• Applications from all levels of ability will be considered, with advice and support for training and preparation for those who feel they will require it.
• The team will stay together throughout, and you will have opportunity to attend and/or take part in campaign events and activities scheduled throughout the week.
Full participation in the peloton will include all meals and accommodation, drinks and snacks during the rides, professionally led cycle route including guides, maintenance and support vehicles, and branded cycling clothing. To make this possible, a contribution of £375 is required to secure your place.*
*A limited number of subsidised places are available for non-professionals with lived experience of chronic pain.
Could you join us?
The Flippin' Pain peloton could be for you if…
• You have a personal and/or professional interest in chronic pain.
• You're passionate about improving the lives of those affected.
• You can ride a bike and are up for a challenge.
Applications are now closed. Thanks to everyone who has applied!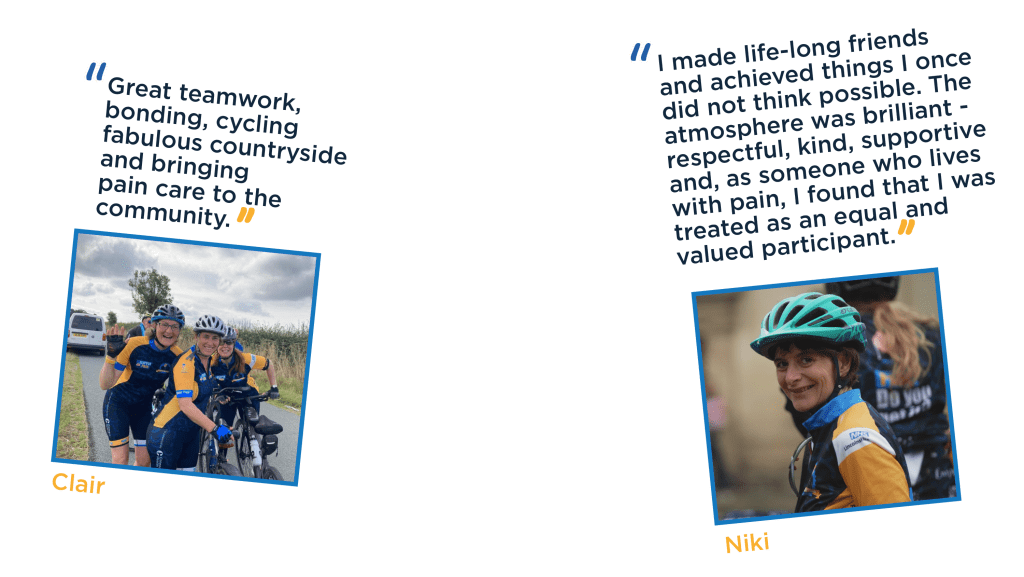 This event is delivered in association with Tees Valley Sport and You've Got This.