Pain: Do You Get It? Goes Virtual!
Do you, or someone you love, live with pain?
You are not alone: chronic pain affects between 30-50% of people! Join us for a FREE, fun and easy to understand talk about why your body hurts, why it keeps hurting and what you can do to help it. Understanding pain is important because it changes the way that you respond to it, and can even change the way it feels.
with Prof Cormac Ryan and Expert Panel
Cormac is Flippin' Pain's resident pain expert and with over 60 journal publications spanning 15 years in the field of chronic pain and pain education, his career as a pain scientist has so far been an illustrious one. He combines his approachability and entertaining anecdotes to make pain understandable. Cormac will be joined by a panel of experts including people living with persistent pain.
When: Tuesday 20th October, 4.00-5.30pm
Where: Due to the ongoing pandemic this is a virtual webinar event
Meet our panel, read our speakers' biographies here
Download and share our event poster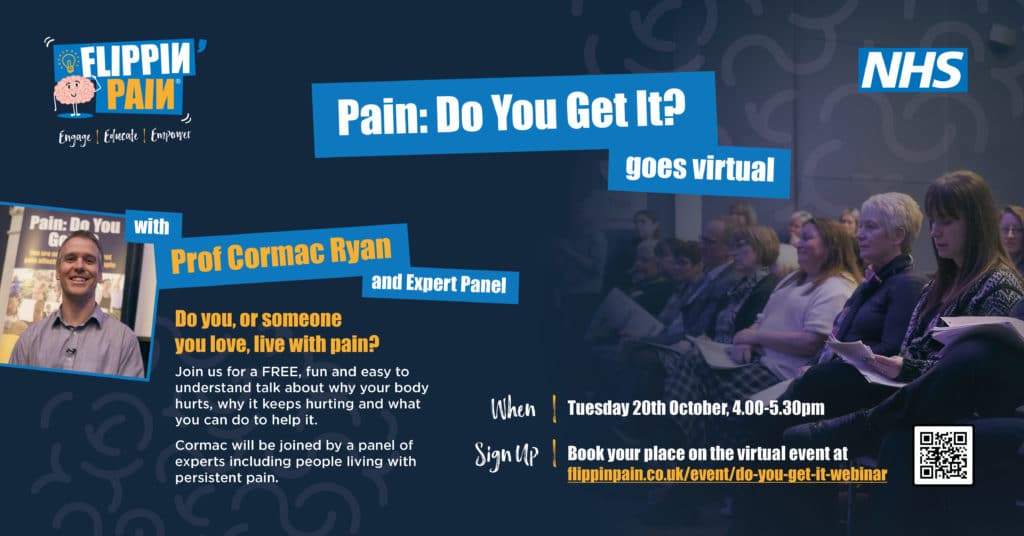 Missed the event? Watch the webinar in full below:
Having issues accessing the video? Click here to watch it on YouTube.